Hello! Been by your local nursery lately? Yep - the baby plants are arriving by the truckload and I want every last one of them to come home with me. Every year since the dawn of time I've had a vegetable garden, and since we're in a new place this year, it's time to start fresh. I'm not
exactly sure
what part of the yard gets the most sun, but I DO know that our front deck gets blasted for about 4 hours a day - which to me means it's begging for an herb garden. Which, being right off the kitchen, will be extremely handy! So I've got a blank slate, and took a minute (
OK, two hours...
) to trudge through the internet and find some pretty neat planter ideas. All of which either have DIY instructions (
yay
!) or could easily be figured out how to make. Here are my 9 favorites.
For me, vertical really gets my attention. I want maximize my planting space without sacrificing the whole deck, take a look at this beautiful planter wall that's been incorporated into a pergola:
Or how about something hanging? This example is for indoor plants, but I can see adapting this for the outdoors fairly easily. Longer pieces of wood to hold maybe 2-3 pots per shelf, and perhaps a way to anchor the bottom to the ground so they don't fly all over in the wind...
I really like that one, actually, I'm certain I'm going to make one of those -just not sure if it will be the herb garden. Since our deck has full sun, I imagine I'd have to water those little pots daily! Not fun... but so cute.
This one here has no DIY attached, but you could figure it out pretty easily:
I couldn't even find the page it came from to give credit, boo! But it looks like 2 - 4x4's for the sides, and then build your simple boxes in between. I like where this is going......
Here's a GREAT one that DOES have a full tutorial attached!
Don't ask me why, but my first thought was to add wheels! How convenient would that be to move it where you need it, and hey - maybe throw a second garden on the bottom rack for plants that can tolerate a little less sun? Like mints, lettuces, etc... I really like that raised center.
These are classic - clean, uncluttered, functional and tiered for easy access:
I'm thinking three levels, on a sturdy platform...with wheels... haha - sorry, I'm not giving up on that mobility. Every single one of these can be made mobile!
Here's a VERY clever take on a wine barrel:
That's great! Half the work is already done by the people who built the barrel. Most hardware stores sell these barrels now, but I HIGHLY recommend you price compare & call local wineries, if you're lucky enough to have some nearby... they tend to sell their old barrels for CHEAP. There is a winery here that sells the whole barrel for $30. No joke. It's worth a call!
Click here
for the full tutorial on that one, it's looks relatively easy. Stair step cuts into the barrel and then connect with wood. Fill with soil, voila! (Don't forget to add those wheels... hehe....) I need to find a spot for my tomatoes, this might be my answer...
Then there's this old tried & true, which would look killer with a mix of herbs and succulents - I know, they aren't edible, but who cares - it would look great. Mix some edible flowers in while you're at it, nasturtiums.. pansies... go nuts, like this lady:
Is she on the 100th floor of a high rise or something? Look at that view - oh wait, you can't, because there isn't one..solid blue baby! Just playin...heh..
Here's a cute one, that - while it doesn't have a tutorial attached, they ARE for sale - or, you could probably figure out how to make one fairly easily, especially if you have a miter saw to cut those angles easily: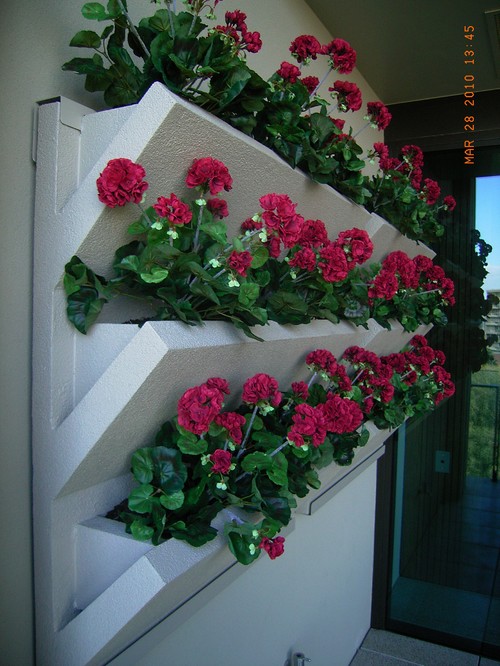 Here's one that takes me back, when I worked in a nursery (best job ever!) I used to make these as gifts for friends & family, it's a great all in one answer:
Strawberry pot! It's technically not a DIY planter, unless you're handy with the clay - but it's a great idea.
Preeeeetty cute! So there you have it, a round up of planter projects to get the ball rolling on this summer's harvest. Will you be doing any gardening this year? You should!
Keep in touch - I love hearing from you!
-Jesse
For Friday: Need a weekend project? I'll share a fun mirror makeover that anyone can tackle.
Post a Comment